Rev. Leo Loyola Ordained to the Priesthood
Leo was ordained by Bishop Bob Fitzpatrick on Sunday afternoon, December 16, 2012, at Calvary Church in Kane'ohe. Representatives of all the Windward Region churches including St. John's were there to support and congratulate him and to welcome him to his new role in the Windward Regional Ministry. Thanks to Leo's wife Melody for the photos below and attached.
---
Maori Youth Visit St. John's

A group of 8 adults and 11 children from a Maori school in Tuhoe, Aotearoa/New Zealand stayed in Ho'okaho Hall from November 16 to 26, 2012. For many of the children this was their first time away from their village. After one Sunday service, Aunty Lois enjoyed teaching them some hula down in the hall while Ruth Shiroma Foster played ukulele.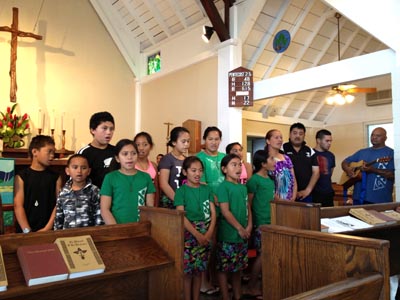 Photo courtesy of Vicki Fay
We also hosted a group from Hamilton (NZ) Boy's High School in Ho'okano Hall from September 26 through October 5, 2012. They sang an anthem during the Offertory for the Eucharist on Sunday, September 30, and then performed for us down in the hall while we all enjoyed a hearty lunch together.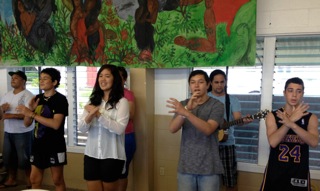 Photo courtesy of Vicki Fay
---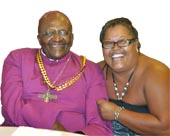 Archbishop Tutu with Tori
Photo courtesy of Fr. David Blanchett
Archbishop Desmond Tutu was at the Cathedral of St. Andrew August 3-5, 2012, giving a public lecture, preaching Sunday morning, and participating in an interfaith service that afternoon. The archbishop even met our own Tori Tualatamalelagi!

---
Rev. Malcolm Naea Chun was ordained as an Episcopal priest on Sunday aftenoon, June 10, 2012, in the Cathedral of St. Andrew, Honolulu. Bishop Mark McDonald, the National Indigenous Bishop of the Anglican Church of Canada, was guest preacher.
See photos, courtesy of Rev. David Blanchett.
---
Holy Eucharist Sundays 9:30 am
St. John's By-the-Sea
   Episcopal Church
47-074 Lihikai Drive Kāne'ohe, HI 96744 (808) 239-7198 stjohnsbts@gmail.com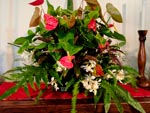 Archived Events