Stewardship "Tea Party" at St. John's, November 10, 2013


A "Tea Party" was held in Ho'okano Hall after the Eucharist on November 10th. Instead of focusing on pledging (because our congregation does a lot as it is), this event focused on wellness and appreciation, acknowledging our pledgers on a job well done! An array of teas (hot and iced) was served, along with biscuits, scones, muffins, small sandwiches, salads, etc. and those interested were pampered with mini chair massages as well as samples of beauty products as a gesture that their offerings haven't gone unnoticed! Sean Lau, St. John's treasurer, reflected on what our financial offerings have been able to do for our church over the past year as well as changes currently needed, reminding everyone that our help is essential to continue the legacy of St. John's By the Sea. Mahalo nui to Sean, Kahala, Tori, Akahi, and Jhonavi for all your work organizing and serving this marvelous occasion, to Phyllis for the beauty products, and to Sean and Rachel for the massages! Thanks also to Melody for the photos!
---
Diocesan Stewardship Retreat, September 27-29, 2013
Rex and Renee Chong attended the Diocesan Stewardship Retreat at Camp Mokuleia this year on behalf of St. John's by-the-Sea. You can see them tucked into the group, standing just to left of center, in the photo below. Mahalo nui, Renee and Rex!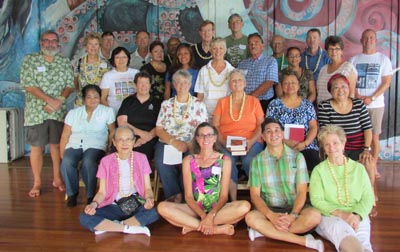 ---
Rev. Darrow Louis Kanakanui Aiona Scholarship Awarded
St. John's by-the-Sea Church has established the Rev. Darrow Louis Kanakanui Aiona Scholarship Fund in memory of Fr. Darrow's life as an educator, his long service to St. John's by the Sea, and his special concern for Native Hawaiians pursuing higher education. We are proud to announce that the first recipient is Jonathan Kahala Lau, pictured here between Teena Urban and the Rev. Leo Loyola. Donations to the scholarship fund are welcome! (Thanks to Vicki Fay for this photo.)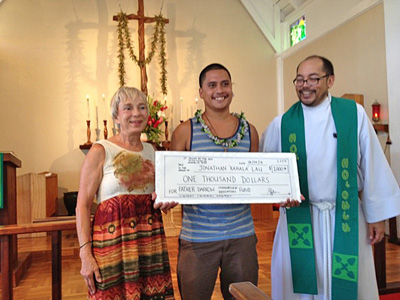 ---
Moses and Naomi Kalauokalani Confirmed
St. John's-by-the-Sea Church members Moses E. and Naomi L.N.O. Kalauokalani were confirmed by Bishop Robert Fitzpatrick at St. Andrew's Cathedral on Sunday afternoon, May 5, 2013. Thanks to Melody Loyola for these photos of Moses and Naomi with the bishop, Rev. Leo Loyola, and other St. John's members Ipolani Johnson and Lois Murphy.


---
Holy Eucharist Sundays 9:30 am
St. John's By-the-Sea
   Episcopal Church
47-074 Lihikai Drive Kāne'ohe, HI 96744 (808) 239-7198 stjohnsbts@gmail.com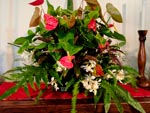 Archived Events