St. John's by the Sea is dedicated to serving God through worship and serving our neighbors near and far. Through your generous sharing of time, talent, and treasure, you enable the St. John's 'ohana (family) to be better stewards through the many ministries we are involved in. Through your prayers, financial pledges, and hands-on support, you can help make the communities we serve a better place for this and future generations.
Ways to Help
To make a financial donation, you may send a check made out to St. John's by the Sea Church to 47-074 Lihikai Drive, Kāne'ohe, HI 96744. To make a donation online, click on the "Donate" button in the right hand column above. To discuss leaving a bequest to St. John's, leave a message at (808) 239-7198 and someone will return your call. To volunteer, see the sections on "What We Do" and "Announcements."
NEW: If you normally shop online via Amazon.com, you can now also support St. John's simply by going through AmazonSmile instead, and the AmazonSmile Foundation will donate 0.5% of the purchase price from your eligible purchases!
Designated Plate Offerings
If you attend services at St. John's you can make donations in person. Note that the Sunday freewill (plate) offerings on the first Sunday of each month are designated in support of Family Promise (see our Outreach Ministries); on the second Sunday, they are for building repairs and maintenance; on the third Sunday, they go to the Rev. Darrow Louis Kanakanui Aiona Education Fund and to costs related to clergy formation; on the fourth Sunday, they go to the Vicar's Discretionary Fund.
Rev. Aiona Scholarship Fund
This fund was established in Fr. Darrow's memory to help support the education of young Hawaiians, the future leaders of our island home. This year scholarships were awarded to three up-and-coming leaders: Kahala Lau, William Young, and Nicholas Young (see Recent Events). Please consider a generous gift to this fund. For more information, please see attached description of the scholarship and report.
Clergy Formation
Paul Nahoa Lucas and Phyllis Mahi Beimes recently completed the three-year Waiolaihui'ia clergy formation program and, along with Malcolm Kekeawe Hee and John Hau'oli Tomoso, were ordained to the transitional diaconate on October 24, 2015. All four are Native Hawaiian and Mahi is the first female of Hawaiian ancestry to be ordained in the Episcopal Church.
Building Repairs, Maintenance, and Equipment
Recently we have repaired the ceiling of Ho'okano Hall! Earlier we repaired the church belfry (see photos). Mahalo nui to those who made financial donations to support this and other repair and maintenance projects! Donations toward any or all of these are welcome, especially in honor or memory of someone.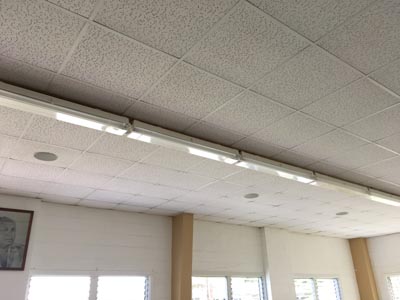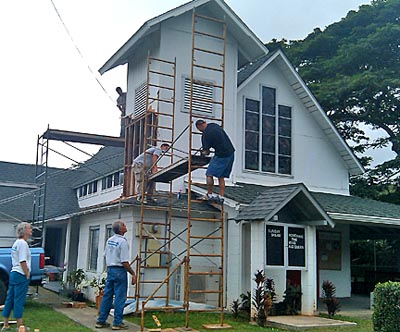 ---
Holy Eucharist
Sundays 9:30 AM
St. John's By-the-Sea
   Episcopal Church
47-074 Lihikai Drive Kāne'ohe, HI 96744 (808) 239-7198 stjohnsbts@gmail.com