Aiona Scholarships Awarded for 2021-2022 School Year
After our online Morning Prayer service on August 22, we were delighted to award the Rev. Darrow Aiona Scholarships to 3 recipients for the coming school year: Robbie-Lynn Pohana-Chong, Sean Leah, and Jasmine Luana Fenstemacher. Congratulations to all!
See report for details
---
St. John's Held In-Person Worship Services 5/23/21-8/15/21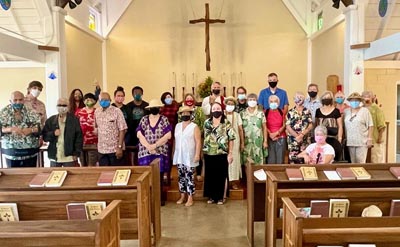 Photo courtesy of Ruth Shiroma Foster; see also collage of Ruth's photos assembled by Vicki Fay.

As of Sunday May 23, 2021, St. John's By-the-Sea Church resumed in-person Eucharistic services. We followed the Episcopal Diocese of Hawaii guidelines (updated May 28, 2021), which still required masks and social distancing for indoor worship. But given the surge in COVID-19 cases, we returned to online worship as of August 22, 2021.
---
St. John's Online Services, 4/19/20-5/16/21
On April 19, 2020, St. John's held its first-ever virtual service, via Zoom! See photo below (see also larger version). We continued to gather for services every Sunday at 9:30 am through May 16, 2021. On May 23, 2021, we resumed in-person services.
---
Mahalo Pumehana to St. John's "Gardening Angels"!

Some "angels" have been faithfully continuing to tend our new garden (beside the recently paved parking lot)! Mahalo nui to Enid's son Keanu Young for weeding as well as to Raynell Ohara (Charles Ho'okano's grand-niece) for planting grass. Fr. Nahoa took these gorgeous photos recently when he and Jodi Shimabukuro visited the church.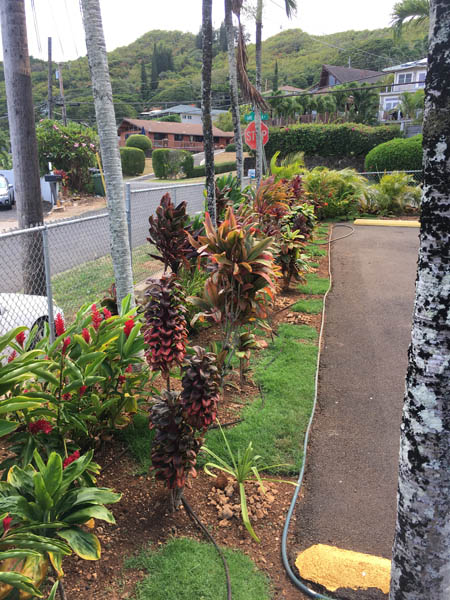 ---
St. John's Supports Kahalu'u during COVID-19
During May and June 2020, St. John's partnered with other Windward churches in the "Kahalu'u Meat Ministry," purchasing meat for the Key Project food distribution project in Kahalu'u.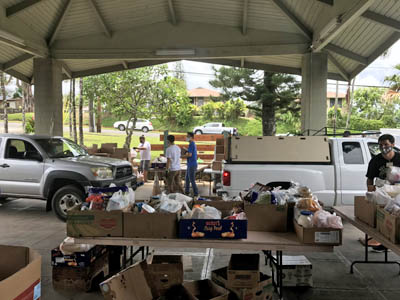 ---
St. John's By-the-Sea Church Annual Scholarships
On August 16, 2020, at the end of its Sunday morning service online, St. John's By-the-Sea Church awarded scholarships to five of its members who are pursuing higher education: Kapono Lucas, Sean Lau, Tori Tulatamalelagi, Luana Fenstemacher, and Robbie-Lynn Pohano-Chong, shown here being congratulated by Fr. Nahoa, Vicki Fay, and Teena Urban. These awards are made possible through the Rev. Darrow Aiona Scholarship Fund, which was established in Fr. Darrow's memory to help support the education of future leaders of our island home. Donations to the Scholarship Fund are always welcome!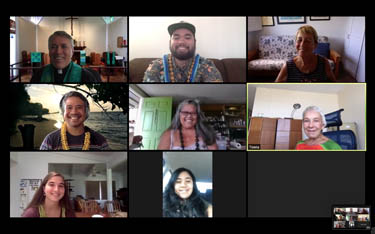 ---
La Cañada High School Choir Visits
On February 16, 2020, St. John's by-the-Sea hosted another visit by the wonderful choir of La Cañada High School from Southern California. The singers offered two hymns during our Sunday morning service and sang for us in Hookana Hall after enjoying a potluck lunch. This was the third time LCHS has visited St. John's, and we're all looking forward to seeing--and hearing!--them again!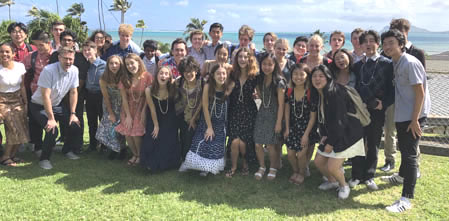 Photo courtesy of Vicki Fay