Episcopal Indigenous Missioner at St. John's March 24
Our Hawaiian Eucharist celebrating the birth of Prince Jonah Kuhio Kalanianaole falls on Sunday March 24, 2019. This is the same weekend as the Presiding Bishop Michael Curry's visit to Hawai'i for "Renewal 2019." As part of that celebratory weekend, the Reverend Brad S. Hauff, the Episcopal Church Indigenous Missioner, visited and preached at St. John's on that Sunday, joining us afterwards for a potluck lunch. For more about Rev. Huff, please see here.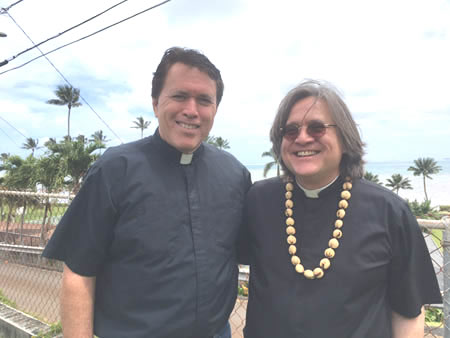 In Memoriam: The Reverend Canon Malcolm Nāea Chun
26 July 1954–20 January 2019
Members of St. John's by-the-Sea Church as well as from the Episcopal Diocese of Hawai'i and the wider community gathered on the weekend of February 23–24 to celebrate the life and mourn the sudden and unexpected loss of Rev. Canon Malcolm Nāea Chun. Fr. Malcolm had been a frequent presence at St. John's over the years since his ordination in 2012, serving as a supply priest as well as part-time vicar from mid 2015 to mid 2016. His funeral took place at St. Andrew's Cathedral on February 23 (see photos from inside the cathedral and outside), and many of the visiting indigenous clergy who attended that service joined St. John's for a special Sunday morning service on February 24 (see photos).
Also on February 23, Canada's Anglican Council of Indigenous Peoples (ACIP) also held a vigil for Fr. Malcolm. (Photo courtesy of Melanie Delva.)
A statement from Bishop Robert Fitzpatrick, issued January 31, 2019, summarizes Fr. Malcolm's many contributions to the diocese and the greater community (read here).
See also this article from the Episcopal News Services recounting some of Fr. Malcolm's other efforts in relation to the church's indigenous ministry.
I counted Malcolm as a friend and a teacher. His service to the Cathedral, to the Diocese, to the Church, and to me will be warmly remembered. Nahoa+
Holy Eucharist Sundays 9:30 am
St. John's By-the-Sea
   Episcopal Church
47-074 Lihikai Drive Kāne'ohe, HI 96744 (808) 239-7198 stjohnsbts@gmail.com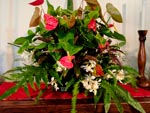 Archived Events