Aiona Scholarships Awarded for 2022-2023 School Year
During our Eucharistic service on August 7, we were delighted to award the Rev. Darrow Aiona Scholarships to 4 recipients for the coming school year: Kekaimalieokona K.I. Maunakea, Sean Lau, and Kekai Perry, as well as Jasmine Luana Fenstemacher in absentia. Congratulations to all!
Photo courtesy of Ruth Shiroma Foster. See additional photos here.
---
Bishop Fitzpatrick Visits St. John's

We were delighted to welcome the Rt. Rev. Robert Fitzpatrick and his wife, Bea, to St. John's by-the-Sea for our Sunday Eucharist on April 3, 2022! Our vicar, the Rev. Paul Nahoa Lucas, co-celebrated the mass with the Bishop. Bentos were available in Hookano Hall after the service for those who wanted to catch up with him and Bea. Mahalo nui!
---
Holy Eucharist Sundays 9:30 am
St. John's By-the-Sea
   Episcopal Church
47-074 Lihikai Drive Kāne'ohe, HI 96744 (808) 239-7198 stjohnsbts@gmail.com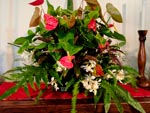 Archived Events