Hawaiian-Language Service in honor of King Kamehameha IV and Queen Emma:
December 3, 2023

On December 3, 2023, we celebrated the Feast of Saints and Sovereigns His Majesty King Kamehameha IV and his wife, Queen Emma Kaleleonalani. Both were confirmed in the Anglican faith on November 28, 1862. Our service was conducted almost entirely in the Hawaiian language, including the Bible readings and hymns. Father Nahoa Lucas was assisted at the altar by Kekailoa Perry; additional lay readers were Owen Terada and Lorrie Santos.
---
Blessing of the Animals: October 8, 2023

On Sunday, October 8, 2023, we celebrated the Feast of St. Francis with a special service including Blessing of the Animals. People brought their real dogs or images of their animals in frames or on phones, and even one special stuffed animal! For a few more photos (courtesy of Ruth Shiroma Foster), please click here.


---
St. John's Celebrates! September 3, 2023
Multiple celebrations marked the morning of Sunday, September 3, at St. John's By-the-Sea Church. First of all, we commemorated the birthday of her majesty Queen Lili'uokalani with a Hawaiian-language Eucharist. During the service, Father Nahoa blessed the new kamani-wood paten and chalice, which were used to distribute the Eucharist in both forms, bread and wine, for the first time since the pandemic began in 2020. And the three recipients of the Rev. Darrow Aiona Scholarships for 2023-24 were announced: Kekailoa Perry, Jasmine Luana Fenstemacher, and Kekaimalieokona "Maka" Maunakea (in absentia).
After the service, we gathered outside for a special blessing of Ho'okano Hall, newly repaired and restored following the damage suffered due to high winds in March 2023. Finally, we were able to enjoy a potluck lunch together in the hall. Mahalo nui to everyone who participated and contributed!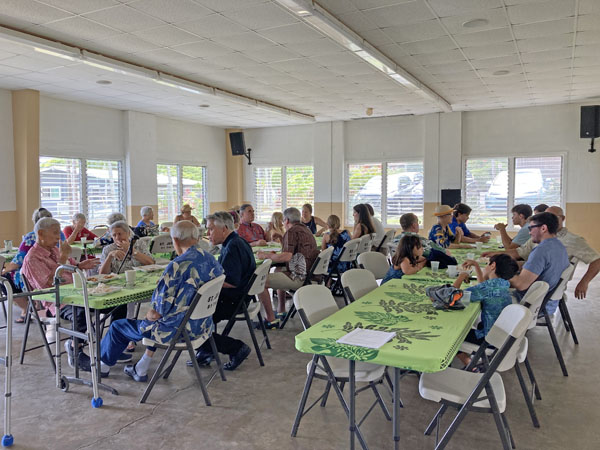 ---
Kipuni Aloha no Maui: Daylong Prayer Vigil held September 1, 2023

A daylong vigil was held in Hawai'i on September 1, 2023, for people statewide to come together to support the victims of the Maui wildfires and their families. The day was centered around emotional and spiritual healing that is rooted in Native Hawaiian practices with leaders from diverse faiths. Among the events was a blessing at the University of Hawai'i - Stanford University football game on Fridayevening. Participating were Kahu Hailama Farden (Waianae Protestant Church), retired Bishop Eric Matsumoto (Honpa Hongwanji), Monsignor Gary Secor (Catholic Diocese of Honolulu), and our own Rev. Paul Nahoa Lucas.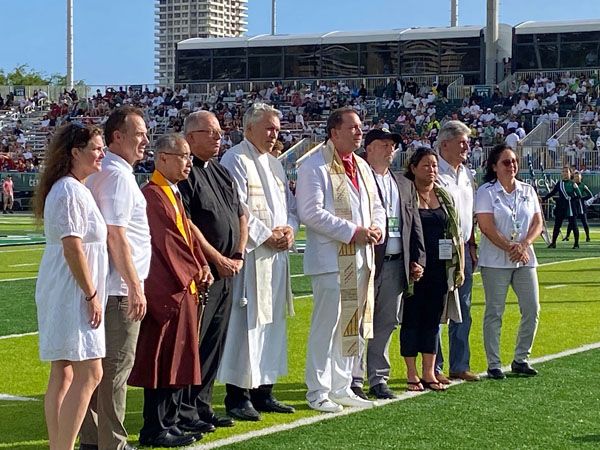 ---
St. John's By-the-Sea Mini-Putt Golf Fundraiser 2023
In November 2021, St. John's held a Mini-Putt Golf Tournament Fundraiser at the Bayview course in Kane'ohe. Since everyone had so much fun then, by popular demand, we held our Second Mini-Putt Tournament on July 2, 2023, with even more folks attending, and raised over $1,600 for the church's ongoing mission! Congratulations to the winners (Bob, Zander, and Phyllis) and all who participated, helped, and contributed. And especially warm mahalos to Sam and her daughter Kim who organized everything! More photos from the event
---
Celebration of New Ministry

Father Nahoa joined Bishop Fitzpatrick and other
diocesan clergy attending a Celebration of New Ministry for the Rev. John Hauʻoli Tomoso at Trinity By-the-Sea Church on Maui on Saturday, January 28, 2023. Father Nahoa, along with Father Hauʻoli, Rev. Mahi Beimes, and Rev. Malcolm Keleawe Hee completed the three-year Waiolaihuiʻia clergy formation program in 2015.

Congratulations to Father Hauʻoli and his wife, Susan Tomoso!
---
Holy Eucharist Sundays 9:30 am
St. John's By-the-Sea
   Episcopal Church
47-074 Lihikai Drive Kāne'ohe, HI 96744 (808) 239-7198 stjohnsbts@gmail.com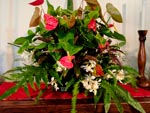 Archived Events