Celebration of New Ministry

Father Nahoa joined Bishop Fitzpatrick and other
diocesan clergy attending a Celebration of New Ministry for the Rev. John Hauʻoli Tomoso at Trinity By-the-Sea Church on Maui on Saturday, January 28, 2023. Father Nahoa, along with Father Hauʻoli, Rev. Mahi Beimes, and Rev. Malcolm Keleawe Hee completed the three-year Waiolaihuiʻia clergy formation program in 2015.

Congratulations to Father Hauʻoli and his wife, Susan Tomoso!
---
SJBTS Back in Ho'okano Hall

After the celebration of the Eucharist on Sunday morning, December 18, 2022, the congregation reassembled in Ho'okano Hall for the first time in a long while to celebrate fellowship, enjoy some delicious corn chowder (thanks to Renee!), and "make your own sundae" with ingredients provided by Sam! The day was rounded out by playing Bingo, with the winners being Sheila and Clara, seen here with Phyllis and Sam. Additional photos courtesy of U'i and Sam.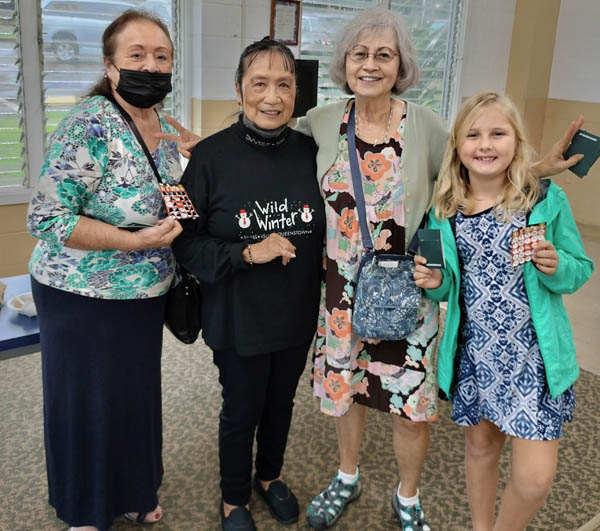 ---
St. John's Hosts Marquesas Group

We were delighted to welcome members of the Taka Iki group to our Sunday morning service on October 30. Taka Iki is made up of students in high school and college from the six islands of Marquesas. While they were on our island, they performed for three days at the Polynesian Cultural Center in Laʻie, toured and performed at the Bishop Museum, and engaged in cultural exchanges at various Oʻahu schools, including Kamehameha Schools and King Intermediate.
---
Blessing of the Animals
In honor of the Feast of St. Francis of Assisi, our Eucharistic service on Sunday morning, October 9, 2022, included special Bible readings, hymns, and a blessing of pets belonging to St. John's members. Some animals were unable to attend the service in person, but Fr. Nahoa blessed them anyway, via FaceTime! Mahalo to Ruth Shiroma Foster, Malia Santilla, Eileen Phillips, and Fr. Nahoa for taking photos; see more here.
Fr. Nahoa Blessing Jack B. Nimble
---
Aiona Scholarships Awarded for 2022-2023 School Year
During our Eucharistic service on August 7, we were delighted to award the Rev. Darrow Aiona Scholarships to 4 recipients for the coming school year: Kekaimalieokona K.I. Maunakea, Sean Lau, and Kekai Perry, as well as Jasmine Luana Fenstemacher in absentia. Congratulations to all!
Photo courtesy of Ruth Shiroma Foster. See additional photos here.
---
Bishop Fitzpatrick Visits St. John's

We were delighted to welcome the Rt. Rev. Robert Fitzpatrick and his wife, Bea, to St. John's by-the-Sea for our Sunday Eucharist on April 3, 2022! Our vicar, the Rev. Paul Nahoa Lucas, co-celebrated the mass with the Bishop. Bentos were available in Hookano Hall after the service for those who wanted to catch up with him and Bea. Mahalo nui!
---
Holy Eucharist Sundays 9:30 am
St. John's By-the-Sea
   Episcopal Church
47-074 Lihikai Drive Kāne'ohe, HI 96744 (808) 239-7198 stjohnsbts@gmail.com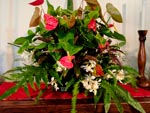 Archived Events