The Reverend Paul Nahoa Lucas is the Vicar of St. John's by-the-Sea Episcopal Church.
On behalf of the Right Reverend Bishop Robert L. Fitzpatrick, who oversees St. John's as a mission congregation of the Episcopal Diocese of Hawai'i, Rev. Nahoa and the Bishop's Committee are responsible for the behind-the-scenes business work of our church.
Current Bishop's Committee members and their terms of office:
Phyllis Chang, Acting Bishop's Warden
Enid Young, Junior Warden
Eileen Phillips, Clerk (till January 2024)
Malia Santilla (till January 2025
Genie Simeona (till January 2025)
Tensie Lee (till January 2024)
Kahala Lau (till January 2023)

Lolana Fenstemacher, Treasurer
Sharon Davis, Bookkeeper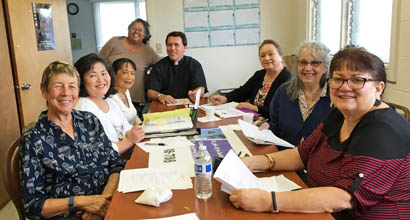 Some past and present members of St. John's Bishop's Committee.
---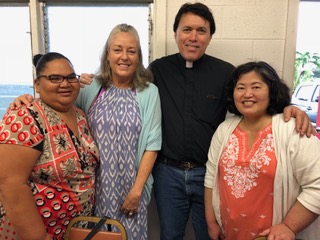 New Bishop Committee members with Fr. Nahoa, January 2018

Licensed Worship Leaders:
Victoria Fay

Licensed Eucharistic Visitors:
Naomi Kalauokalani
Eucharistic Ministers:
Tori Tualatamalelagi
Victoria Fay
Luana Fenstemacher
Jonathan Kahala Lau, Jr
Kealohi Naipo