The Reverend Paul Nahoa Lucas is the Vicar of St. John's by-the-Sea Episcopal Church.
On behalf of the Right Reverend Bishop Robert L. Fitzpatrick, who oversees St. John's as a mission congregation of the Episcopal Diocese of Hawai'i, Rev. Nahoa and the Bishop's Committee are responsible for the behind-the-scenes business work of our church.
Current Bishop's Committee members and their terms of office:
Sarah Horn, Bishop's Warden
Enid Young, Junior Warden
Jodi Shimabukuro, Treasurer (and BC member,
January 2021-January 2024)
Eileen Phillips (January 2021-January 2024)
Tori Tualatamalelagi (January 2019-January 2022)
Sandra Smiley (February 2017-January 2022)
Phyllis Chang (January 2021-January 2023)
Matt Remkiewicz (January 2020-January 2023)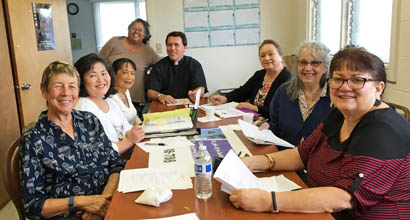 Some past and present members of St. John's Bishop's Committee.
---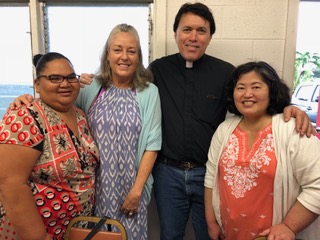 New Bishop Committee members with Fr. Nahoa, January 2018

Licensed Worship Leaders:
Victoria Fay

Licensed Eucharistic Visitors:
Ipolani Johnson
Naomi Kalauokalani
Eucharistic Ministers:
Tori Tualatamalelagi
Victoria Fay
Luana Fenstemacher
David Schofield
Jonathan Kahala Lau, Jr
Kealohi Naipo