Longtime St. John's member Ruth Lucas and the late Arnold Newalu completed a labor of love in 1999 in the publication of The Genesis of St. John's by the Sea: A Mini-History, 1931–1997. This document includes a thirty-one-page history, and lists of vicars and confirmations over the thirty-six year period, as well sixteen pages of archival photographs.
Download A Mini-history of St. John's by the Sea (pdf 5mb)
---
St. John's by the Sea Newsletters
From August 2005 to August 2009, we were fortunate to have available the considerable talents of St. John's member Leo Loyola, who subsequently entered the seminary and was ordained a priest in December 2012. The newsletter he created for us was titled Ho`oulu, which in Hawaiian means to stir up, inspire, excite, and, literally, to cause to grow. A pule ho`oulu is a prayer for inspiration.
These newsletter issues serve as a kind of history of St. John's during this four-year period, with articles, sermons, announcements, and lots and lots of photos!
We are grateful to Rev. Leo for the inspiration provided by these newsletters, archived here.
Historical Archives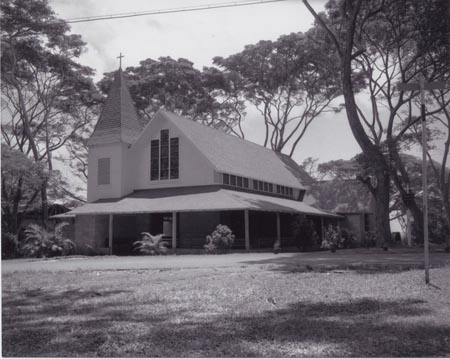 St. John's By-the-Sea, August 1948
---
Holy Eucharist
Sundays 9:30 AM
St. John's By-the-Sea
   Episcopal Church
47-074 Lihikai Drive Kāne'ohe, HI 96744 (808) 239-7198 stjohnsbts@gmail.com