Longtime St. John's member Ruth Lucas and the late Arnold Newalu completed a labor of love in 1999 in the publication of The Genesis of St. John's by the Sea: A Mini-History, 1931–1997. This document includes a thirty-one-page history, and lists of vicars and confirmations over the thirty-six year period, as well sixteen pages of archival photographs.
Download A Mini-history of St. John's by the Sea (pdf 5mb)
---
The Reverend C. Fletcher Howe, in his role as diocesan historiographer, compiled an early history of St. John's By-the-Sea, which was later reissued by his successor at the diocese, Rev. Kenneth D. Perkins. This 8-page document draws on the Hawaii Church Chronicle and provides a compelling picture of the determination and faithfulness of the early leaders and members of St. John's congregation.
Download "Beginning Days of St. John's By-the-Sea"
---
In "Kane'ohe Pineapple," Peter Young provides a brief overview of agricultural development in Ko'olaupoko, from sugar in the late 1800s to rice and pineapple in the early 20th century. A pineapple cannery, near where St. John's now stands, closed in 1923 and the land was eventually converted to grazing pasture for cattle.
---
Historical Archives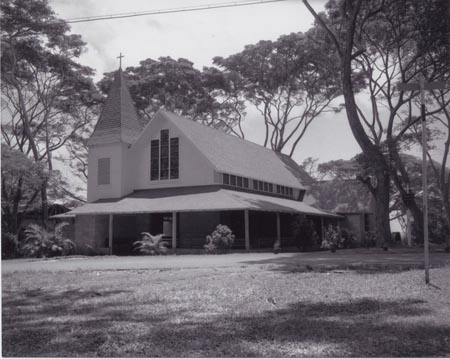 St. John's By-the-Sea, August 1948
---
Holy Eucharist
Sundays 9:30 AM
St. John's By-the-Sea
   Episcopal Church
47-074 Lihikai Drive Kāne'ohe, HI 96744 (808) 239-7198 stjohnsbts@gmail.com